BacioDiDama chocolate egg 600 g
The delicious embrace between a crunchy gluten-free biscuit, creamy Gianduja and dark chocolate.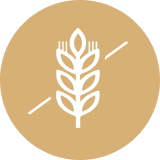 Gluten Free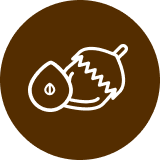 Only with "Piedmont Hazelnut"
£70.00
The new delights in the Easter 2023 collection pay loving homage to our most beloved chocolates inspired by traditional Piedmontese confectionery. Perfect for those with a sweet tooth, BacioDiDama transforms into an Easter egg: crumbly, gluten-free Piedmont Hazelnut biscuit encased in a combination of Gianduja and dark chocolate. Everything that makes our BacioDiDama unique, ready to share for a moment of Joy with yourself and those you love.

FREE SHIPPING
for orders above 69£

FAST AND SAFE SHIPPING
dispatched in 2-5 working days

INGREDIENTS: HAZELNUT biscuit (caramelized Piedmont HAZELNUT flour -24% (sugar, Piedmont HAZELNUT-48%), BUTTER (!rom MILK), sugar, potato starch, Piedmont HAZELNUT flour -11.5%, rice flour, bamboo hber, salt) 36.6%, Sugar, Cocoa butter, Cocoa Mass, Whole MILK powder, Caramelized sugar 0.27%, Emulsifier: SOY lecithin, Skim MILK po_wder, Salt, Natural flavor, Natural vanilla flavor, Vanilla extract. MAY CONTAIN TRACES OF OTHER NUTS.
Nutritional values
per
100
g