Gourmet Christmas Tasting Hamper 1.42 kg
A journey to discover various forms of Venchi's delicious chocolate: individual chocolates, blocks, bars, sticks, and milk chocolate and hazelnut spread. An array of recipes to share during the most magical time of the year.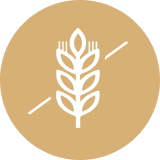 Gluten Free
£115.00
Inside, a sensory journey to discover just what makes Venchi so magical awaits: milk and dark Cometa chocolates; milk chocolate and hazelnut spread; milk and 75% dark chocolate blocks; Nougatine bar; 70% dark hazelnut; pistachio; salted white. And then our Gianduja nougat stick for a sweet finishing touch. There's a recipe and texture to satisfy all tastes! Limited Edition Collection Andrew Bannecker x Venchi.

FREE SHIPPING
for orders above 69£

FAST AND SAFE SHIPPING
dispatched in 2-5 working days

THE BOX CONTAINS N° 1 BAR WHITE CHOCOLATE WITH SALTED ALMONDS -10%, SALTED HAZELNUTS -10% AND SALTED PISTACHIOS -5%. GLUTEN FREE INGREDIENTS: Sugar, Cocoa butter, Whole MILK powder, Salted ALMONDS (ALMONDS - 98.5%, salt) 10.0%, Salted Piedmont HAZELNUT (Piedmont HAZELNUT - 98.7%, salt) 10.0%, Salted PISTACHIOS (PISTACHIOS - 98.7%, salt) 5.0%, WHEY powder (from MILK), Emulsifier: SOY lecithin, Natural vanilla flavor. MAY CONTAIN TRACES OF OTHER NUTS. NUTRITIONAL VALUES PER 100 g - ENERGY: 2475 kJ/595 kcal, FAT: 40.7 g, of which saturates: 17.2 g, CARBOHYDRATE: 47.3 g, of which sugars: 45.0 g, PROTEIN: 8.5 g, SALT: 0.51 g N° 1 DARK CHOCOLATE (COCOA SOLIDS: 56% MIN.) WITH CARAMELISED GRAINED HAZELNUTS (28%). GLUTEN FREE INGREDIENTS: Cocoa mass, Sugar, Caramelised Piedmont HAZELNUT (sugar, Piedmont HAZELNUT 48%) 28.0%, Cocoa butter, Emulsifier: SOY lecithin, Natural vanilla flavor. MAY CONTAIN TRACES OF OTHER NUTS AND MILK. NUTRITIONAL VALUES PER 100 g - ENERGY: 2321 kJ/557 kcal, FAT: 35.5 g, of which saturates: 16.7 g, CARBOHYDRATE: 49.8 g, of which sugars: 45.7 g, PROTEIN: 6.6 g, SALT: 0.09 g N° 1 BAR EXTRA DARK CHOCOLATE (COCOA SOLIDS: 70% MIN.) WITH HAZELNUTS (30%). GLUTEN FREE INGREDIENTS: Cocoa mass, Piedmont HAZELNUT 30.0%, Sugar, Cocoa butter, Emulsifier: SOY lecithin, Natural vanilla flavor. MAY CONTAIN TRACES OF OTHER NUTS AND MILK. NUTRITIONAL VALUES PER 100 g - ENERGY: 2553 kJ/616 kcal, FAT: 49.5 g, of which saturates: 19.8 g, CARBOHYDRATE: 27.2 g, of which sugars: 21.3 g, PROTEIN: 10.8 g, SALT: 0.12 g N° 1 WHITE CHOCOLATE WITH PISTACHIO PASTE, SALT AND TOASTED PISTACHIOS. GLUTEN FREE INGREDIENTS: Roasted PISTACHIO 30.0%, Sugar, PISTACHIO paste 17.5%, Cocoa butter, Whole MILK powder, WHEY powder (from MILK), Emulsifier: SOY lecithin, Salt 0.1%, Natural vanilla flavor. MAY CONTAIN TRACES OF OTHER NUTS. NUTRITIONAL VALUES PER 100 g - ENERGY: 2449 kJ/589 kcal, FAT: 42.4 g, of which saturates: 15.1 g, CARBOHYDRATE: 37.0 g, of which sugars: 33.3 g, PROTEIN: 12.8g, SALT: 0.26 g N° 1 DARK CHOCOLATE (COCOA SOLIDS: 60% MIN.) WITH HAZELNUTS (20%). GLUTEN FREE INGREDIENTS: Cocoa mass, Sugar, Piedmont HAZELNUT 20.0%, Cocoa butter, Emulsifier: SOY lecithin. MAY CONTAIN TRACES OF OTHER NUTS AND MILK. NUTRITIONAL VALUES PER 100 g - ENERGY: 2447 kJ/590 kcal, FAT: 43.4 g, of which saturates: 19.4 g, CARBOHYDRATE: 35.9 g, of which sugars: 30.2 g, PROTEIN: 9.3 g, SALT: 0.12 g N° 1 EXTRA DARK CHOCOLATE (COCOA SOLIDS: 75% MIN.). GLUTEN FREE INGREDIENTS: Cocoa powder, Cocoa butter, Cocoa mass, Sugar, Emulsifier: SOY lecithin, Natural vanilla flavor. MAY CONTAIN TRACES OF NUTS AND MILK NUTRITIONAL VALUES PER 100 g - ENERGY: 2371 kJ/573 kcal, FAT: 45.0 g, of which saturates: 27.0 g, CARBOHYDRATE: 26.5 g, of which sugars: 21.2 g, PROTEIN: 9.1 g, SALT: 0.07 g N° 1 MILK CHOCOLATE (COCOA SOLIDS: 31.8% MIN., MILK SOLIDS: 23.5% MIN.) WITH HAZELNUTS (20%). GLUTEN FREE. INGREDIENTS: Sugar, Piedmont HAZELNUT 20.0%, Whole MILK powder, Cocoa butter, Cocoa mass, Anhydrous MILK fat, Emulsifier: SOY lecithin, Natural vanilla flavor. MAY CONTAIN TRACES OF OTHER NUTS. NUTRITIONAL VALUES PER 100 g - ENERGY: 2474 kJ/595 kcal, FAT: 41.9 g, of which saturates: 18.6 g, CARBOHYDRATE: 43.7 g, of which sugars: 42.3 g, PROTEIN: 9.1 g, SALT: 0.24 g N° 1 'GIANDUJA' NUT MILK CHOCOLATE -55% (COCOA SOLIDS: 24.2% MIN., MILK SOLIDS: 12.7% MIN., HAZELNUT PASTE: 33%) WITH BRITTLE NOUGAT -17.5% COVERED BY DARK CHOCOLATE -27.5% (COCOA SOLIDS: 60% MIN.). GLUTEN FREE INGREDIENTS: Sugar, Cocoa mass, Piedmont HAZELNUT paste 18.3%, Brittle nougat with HAZELNUTS (Piedmont HAZELNUT -44%, honey, sugar, glucose syrup, wafers (potato starch, water, olive oil), edible gelatine) 17.5%, Cocoa butter, Whole MILK powder, Emulsifier: SOY lecithin, Anhydrous MILK fat, Natural vanilla flavor. MAY CONTAIN TRACES OF OTHER NUTS. NUTRITIONAL VALUES PER 100 g - ENERGY: 2412 kJ/580 kcal, FAT: 40.8 g, of which saturates: 15.8 g, CARBOHYDRATE: 41.2 g, of which sugars: 37.3 g, PROTEIN: 9.1 g, SALT: 0.116 g N° 1 HAZELNUT AND COCOA SPREAD. GLUTEN FREE INGREDIENTS: Piedmont HAZELNUT paste 45.0%, Sugar, Fat-reduced cocoa powder 9.0%, Skimmed MILK powder 5.0%, Cocoa butter, Emulsifier: SOY lecithin. MAY CONTAIN TRACES OF OTHER NUTS. NUTRITIONAL VALUES PER 100 g - ENERGY: 2279 kJ/547 kcal, FAT: 35.0 g, of which saturates: 6.1 g, CARBOHYDRATE: 43.8 g, of which sugars: 40.9 g, PROTEIN: 10.8 g, SALT: 0.08 g N° 1 ASSORTED CHOCOLATES. GLUTEN FREE INGREDIENTS: Sugar, Cocoa butter, Whole MILK powder, Cocoa mass, Cocoa powder, Piedmont HAZELNUT paste, vegetable oils and fats (sunflower oil, cocoa butter, olive oil), Concentrated MILK butter, WHEY powder (from MILK), Emulsifier: SOY lecithin, Anhydrous MILK fat, Natural vanilla flavor. CONTAINS / MAY CONTAIN TRACES OF: MILK, SOY, NUTS NUTRITIONAL VALUES PER 100 g - ENERGY: 2511 kJ/605 kcal, FAT: 45.4 g, of which saturates: 24.0 g, CARBOHYDRATE: 39.2 g, of which sugars: 36.9 g, PROTEIN: 7.5 g, SALT: 0.19 g