Mini Book with assorted Chocoviar 117 g
Mini tin book filled with assorted Chocoviar chocolates, one of Venchi's most iconic treats.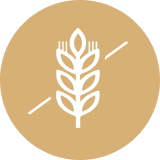 Gluten Free
£18.00
A Spring collection Mini Book brimming with Chocoviar chocolates—Venchi's most iconic and striking treats! Indulge in the delightful Gianduia Chocoviar chocolate, with a crunchy Piedmont Hazelnut immersed in Gianduia, coated in dark chocolate and topped with vegan-friendly, 75% dark Chocoviar microspheres. The 75% Chocoviar chocolate is perfect for lovers of dark chocolate, with its intense filling coated in 75% dark chocolate. The Crème Suprema Chocoviar chocolate is filled with our creamy Suprema spread and coated with two layers of milk and dark chocolate, making it perfect for those with a sweet tooth.

FREE SHIPPING
for orders above 59£

FAST AND SAFE SHIPPING
dispatched in 2-5 working days

ASSORTED CHOCOLATES. GLUTEN FREE INGREDIENTS: Cocoa mass, Sugar, Cocoa butter, Cocoa powder, Cocoa and HAZELNUT spread (Piedmont HAZELNUT paste 33.0%, Sugar, vegetable oils and fats (sunflower oil, cocoa butter, olive oil), Fat-reduced cocoa powder 10.0%, Skimmed MILK powder, Cocoa butter, Emulsifier: SOY lecithin, Natural vanilla flavor), Piedmont HAZELNUT paste, raw sugar, Whole MILK powder, Piedmont HAZELNUT, vegetable oils and fats (sunflower oil, cocoa butter, olive oil), Emulsifier: SOY lecithin, Anhydrous MILK fat, Natural vanilla flavor. CONTAINS / MAY CONTAIN TRACES OF: MILK, SOY, NUTS
Nutritional values
per
100
g