Chocoviar Experience 167 g
Precious cocoa beads with a powerful, sophisticated flavour enclose a centre of different flavours and textures: extra dark 75%, caramel, stracciatella, orange, pistachio, Gianduia with whole PGI Piedmont Hazelnuts or spread.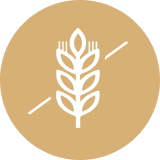 Gluten Free
£25.00
Chocoviar, the most iconic Venchi chocolates and the pure expression of our all-Italian know-how, style and creativity, thanks to a unique, sophisticated mix of contrasts, surprising fillings and textures. Seven different recipes, perfect for every flavour: Gianduia, with a crunchy core of whole PGI Piedmont Hazelnuts; 75%, intense and straight to the point; Pistachio, with toffee crunch and nibs; Crème Brulée, with a creamy caramel centre; Crema Cacao spread; Stracciatella with cream; Orange with blood orange filling. Try them all and choose the one for you!

FREE SHIPPING
for orders above 69£

FAST AND SAFE SHIPPING
dispatched in 2-5 working days

ASSORTED CHOCOLATES. GLUTEN FREE INGREDIENTS: Sugar, Cocoa mass, Cocoa butter, Cocoa powder, Whole MILK powder, Cocoa and HAZELNUT spread (Piedmont HAZELNUT paste 33.0%, Sugar, vegetable oils and fats (sunflower oil, cocoa butter, olive oil), Fat-reduced cocoa powder 10.0%, Skimmed MILK powder, Cocoa butter, Emulsifier: SOY lecithin, Ground vanilla beans), Piedmont HAZELNUT paste, Blood orange of Sicily-based preparation (Blood orange of Sicily -60%, sugar, dextrose, lemon juice concentrated, essential orange oil), vegetable oils and fats (sunflower oil, cocoa butter, olive oil), raw sugar, Toasted cocoa nibs, Concentrated MILK butter, Glucose syrup, Caramel (sugar, water), Piedmont HAZELNUT, Aromatic caramel (sugar, glucose syrup, BUTTER (from MILK), CREAM (from MILK), water), PISTACHIO paste, Roasted PISTACHIO, Powdered CREAM (from MILK), WHEY powder (from MILK), Emulsifier: SOY lecithin, Vegetable fibre (chicory), Water, Condensed Sweetened whole MILK - 9% fat (MILK, sugar), Anhydrous MILK fat, Natural vanilla flavor, Ground vanilla beans, Salt, Acid: citric acid. CONTAINS / MAY CONTAIN TRACES OF: MILK, SOY, NUTS
Nutritional values
per
100
g