Gianduiotto Antica Ricetta 1 kg
1kg Giandujotti Antica Ricetta chocolates: a time-honoured recipe with a minimum of 32% Piedmont Hazelnuts.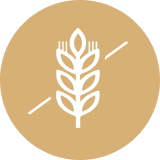 Gluten Free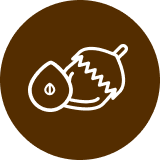 Only with "Piedmont Hazelnut"
£78.00
-15%
£66.30
A 1 kg Bag of Gianduiotto - the time-honoured Venchi Gianduiotto Recipe, loyal to tradiional flavours. A chocolate celebrating the unique and flavoursome taste of Piedmont hazelnuts, which are ground into a soft, delicious paste. The Classic Gianduiotto is indeed a pure gianduja chocolate, made with a minimum of 32% Piedmont hazelnuts. The 1 kg Bag contains 118 pieces, each weighing 8.5 g. It is a sturdy pack without any decorations or extra ribbons, ideal for refilling. Average weight: 8.5 g/each

FREE SHIPPING
for orders above 59£

FAST AND SAFE SHIPPING
dispatched in 2-5 working days

'GIANDUJA' NUT MILK CHOCOLATE (COCOA SOLIDS: 22% MIN., MILK SOLIDS: 15% MIN.). GLUTEN FREE INGREDIENTS: Piedmont HAZELNUT paste 33.3%, Sugar, Cocoa butter, Whole MILK powder, Cocoa mass, Anhydrous MILK fat, Emulsifier: SOY lecithin, Natural vanilla flavor. MAY CONTAIN TRACES OF OTHER NUTS.
Nutritional values
per
100
g