Selection of 2 Suprema spreads Dark & Rhum 500 g
Tasting kit with 2 jars of Suprema chocolate spread: dark chocolate, and chocolate and rum. A real treat whose name is testament to its greatness!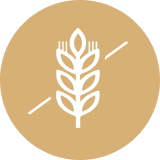 Gluten Free
£27.00
-15%
£22.95
A complimentary label to passione. SUPREMA; our spreadable chocolate cream, with quality Piedmont Hazelnut paste and olive oil. The perfect set for lovers of intense flavours and of chocolate combined with liqueurs, to be enjoyed on different occasions served with bread or as a topping on ice cream and fruit. Inside: A jar of Dark Suprema chocolate spread (250g), dark chocolate spread with a Piedmont Hazelnut base. A jar of Cuba Rhum chocolate spread (250g) made with original rum conching.

FREE SHIPPING
for orders above 59£

FAST AND SAFE SHIPPING
dispatched in 2-5 working days

THE BOX CONTAINS N° 1 DARK CHOCOLATE AND RHUM SPREAD. GLUTEN FREE INGREDIENTS: Dark chocolate (cocoa mass, sugar, cocoa butter, emulsifier: SOY lecithin, natural vanilla flavor. Cocoa solids: 56% min.) 28.0%, Water, Glucose syrup, Extra dark chocolate (Cocoa mass - Papua New Guinea, Sugar, Emulsifier: SOY lecithin, Natural vanilla flavor. Cocoa solids: 70% min.) 7.0%, Rum (59.9% ABV) 6.1%, Cocoa powder, Rum (54% ABV) 6.0%, Whole MILK powder, Sugar, Cocoa butter, Emulsifier: SOY lecithin, Thickener: vegetable fibre (psyllium seed husk). MAY CONTAIN TRACES OF NUTS. NUTRITIONAL VALUES PER 100 g - ENERGY: 1530 kJ/367 kcal, FAT: 18.4 g, of which saturates: 10.6 g, CARBOHYDRATE: 31.6 g, of which sugars: 30.0 g, PROTEIN: 4.1 g, SALT: 0.05 g N° 1 SPREAD EXTRA-DARK CHOCOLATE AND HAZELNUTS PASTE SPREAD. GLUTEN FREE INGREDIENTS: Sugar, Fat-reduced cocoa powder, Piedmont HAZELNUT paste 20.0%, Extra dark chocolate (fat reduced cocoa powder, sugar, cocoa butter. Cocoa solids: 76% min.) 15.6%, Sunflower oil, Olive oil 2.1%, Emulsifier: SOY lecithin, Natural vanilla flavor. MAY CONTAIN TRACES OF OTHER NUTS AND MILK. NUTRITIONAL VALUES PER 100 g - ENERGY: 2263 kJ/545 kcal, FAT: 37.9 g, of which saturates: 8.0 g, CARBOHYDRATE: 35.5 g, of which sugars: 29.4 g, PROTEIN: 9.8 g, SALT: 0.01 g