Selection of 6 assorted chocolate bars 600 g
Pack containing 6 bars of dark, milk and white chocolate; two for each recipe. All waiting to be discovered, tasted and shared!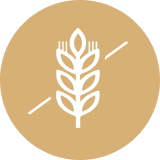 Gluten Free
£35.40
This delicious, elegant selection contains 6 assorted chocolate bars: 2 bars of milk chocolate with notes of caramel and toffee, perfect for a sweet treat at breakfast; 2 bars of sweet, creamy white chocolate made with fine ingredients; 2 bars of persistent 75% extra-dark chocolate to enjoy by itself or paired with creamy cheeses.

FREE SHIPPING
for orders above 69£

FAST AND SAFE SHIPPING
dispatched in 2-5 working days

THE BOX CONTAINS N° 2 BAR EXTRA DARK CHOCOLATE (COCOA SOLIDS: 75% MIN.). GLUTEN FREE INGREDIENTS: Cocoa powder, Cocoa butter 25.6%, Cocoa mass, Sugar, Emulsifier: SOY lecithin, Natural vanilla flavor. MAY CONTAIN TRACES OF NUTS AND MILK NUTRITIONAL VALUES PER 100 g - ENERGY: 2371 kJ/573 kcal, FAT: 45.0 g, of which saturates: 27.0 g, CARBOHYDRATE: 26.5 g, of which sugars: 21.2 g, PROTEIN: 9.1 g, SALT: 0.07 g N° 2 BAR MILK CHOCOLATE (COCOA SOLIDS: 31.8% MIN., MILK SOLIDS: 23.5% MIN.). GLUTEN FREE INGREDIENTS: Sugar, Whole MILK powder, Cocoa butter, Cocoa mass, Anhydrous MILK fat, Emulsifier: SOY lecithin, Natural vanilla flavor. MAY CONTAIN TRACES OF NUTS. NUTRITIONAL VALUES PER 100 g - ENERGY: 2385 kJ/572 kcal, FAT: 36.4 g, of which saturates: 21.8 g, CARBOHYDRATE: 52.8 g, of which sugars: 51.5 g, PROTEIN: 7.4 g, SALT: 0.30 g N° 2 BAR WHITE CHOCOLATE. GLUTEN FREE INGREDIENTS: Sugar, Cocoa butter, Whole MILK powder, WHEY powder (from MILK), Emulsifier: SOY lecithin, Natural vanilla flavor. MAY CONTAIN TRACES OF NUTS. NUTRITIONAL VALUES PER 100 g - ENERGY: 2394 kJ/574 kcal, FAT: 35.8 g, of which saturates: 21.4 g, CARBOHYDRATE: 57.8 g, of which sugars: 57.8 g, PROTEIN: 5.1 g, SALT: 0.23 g