Selection of 6 whole hazelnut -70% bars 600 g
Pack containing 3 75% dark chocolate bars and 3 milk chocolate bars with 70% less sugar. Perfect for those who love whole Piedmont Hazelnuts and prefer chocolate free from artificial sweeteners. Tasty, healthy and authentic!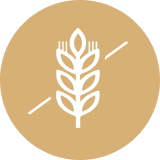 Gluten Free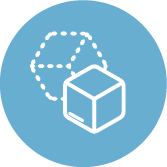 Less Sugar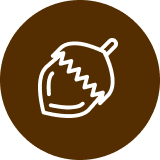 Only with whole "Piedmont Hazelnut"
£39.00
Through our ongoing efforts to create delights that are both delicious and lower in sugar, we are thrilled to present a range of intense yet balanced chocolate products with 70% less sugar than standard Venchi recipes and with no artificial sweeteners. Crunchy whole Piedmont Hazelnuts are covered in 75% dark chocolate or delicious milk chocolate, creating the perfect combination of flavours.

FREE SHIPPING
for orders above 69£

FAST AND SAFE SHIPPING
dispatched in 2-5 working days

THE BOX CONTAINS N° 3 BAR DARK CHOCOLATE (COCOA SOLIDS: 60% MIN.) WITH VEGETABLE FIBER AND HAZELNUTS. GLUTEN FREE INGREDIENTS: Piedmont HAZELNUT 30.0%, Cocoa mass, Chicory root fiber 22.5%, Cocoa butter, Cocoa powder, Sugar, Emulsifier: SOY lecithin, Ground vanilla beans. MAY CONTAIN TRACES OF OTHER NUTS AND MILK. NUTRITIONAL VALUES PER 100 g - ENERGY: 2398 kJ/582 kcal, FAT: 49.6 g, of which saturates: 19.8 g, CARBOHYDRATE: 11.4 g, of which sugars: 7.1 g, PROTEIN: 9.3 g, SALT: 0.11 g N° 3 BAR MILK CHOCOLATE (COCOA SOLIDS: 42% MIN., MILK SOLIDS: 22% MIN.) WITH VEGETABLE FIBER AND HAZELNUTS. GLUTEN FREE INGREDIENTS: Piedmont HAZELNUT 30.0%, Chicory root fiber 23.8%, Cocoa butter, Whole MILK powder, Cocoa mass, Concentrated MILK butter, Emulsifier: SOY lecithin, Sugar, Ground vanilla beans. MAY CONTAIN TRACES OF OTHER NUTS. NUTRITIONAL VALUES PER 100 g - ENERGY: 2449 kJ/594 kcal, FAT: 51.0 g, of which saturates: 20.9 g, CARBOHYDRATE: 12.7 g, of which sugars: 11.1 g, PROTEIN: 9.4 g, SALT: 0.20 g