Selection of 6 Italian Desserts bars 630 g
Pack containing 6 bars whose recipes are inspired by the most beloved Italian desserts.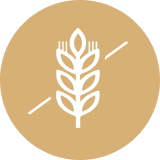 Gluten Free
£42.10
-5%
£39.99
This selection of chocolate bars inspired by traditional Italian desserts will take you on a journey into the country's most beloved sweet treats, which have been paired with delicious Venchi chocolate! Three BacioDiDama Bars with crunchy, gluten-free Piedmont Hazelnut biscuit and a thin layer of white chocolate and Piedmont Hazelnut paste; three multi-layered Tiramisù bars that offer a sumptuously creamy take on one of Italy's most famous desserts, with mascarpone, coffee and Venezuelan milk chocolate.

FREE SHIPPING
for orders above 59£

FAST AND SAFE SHIPPING
dispatched in 2-5 working days

THE BOX CONTAINS N° 3 BAR MASCARPONE FLAVOURED TRIPLE LAYER WITH COFFEE (3.6%) AND MILK CHOCOLATE -33.3% (COCOA SOLIDS: 47% MIN./MILK SOLIDS: 19.5% MIN.). GLUTEN FREE INGREDIENTS: Sugar, Cocoa butter, Whole MILK powder, Cocoa mass, Concentrated MILK butter, Coffee paste (coffee 60%, cocoa butter) 6.0%, WHEY powder (from MILK), Olive oil, Emulsifier: SOY lecithin, Natural flavor, Natural vanilla flavor, Ground vanilla beans. MAY CONTAIN TRACES OF NUTS. NUTRITIONAL VALUES PER 100 g - ENERGY: 2565 kJ/617 kcal, FAT: 44.7 g, of which saturates: 25.8 g, CARBOHYDRATE: 46.7 g, of which sugars: 43.0 g, PROTEIN: 6.1 g, SALT: 0.21 g N° 3 DOUBLE LAYER BAR WITH HAZELNUT PASTE -13.1% AND HAZELNUT BISCUIT -14%. GLUTEN FREE INGREDIENTS: Sugar, Cocoa butter, HAZELNUT biscuit (caramelized HAZELNUT powder (sugar, Piedmont HAZELNUT -48%) -24.5%, rice cream, BUTTER (from MILK) sugar, Piedmont HAZELNUT powder -7.2%, tapioca starch, bamboo fiber, salt) 14.0%, Whole MILK powder, Piedmont HAZELNUT paste 13.1%, Cocoa mass, WHEY powder (from MILK), Anhydrous MILK fat, Emulsifier: SOY lecithin, Natural vanilla flavor. MAY CONTAIN TRACES OF OTHER NUTS. NUTRITIONAL VALUES PER 100 g - ENERGY: 2439 kJ/586 kcal, FAT: 40.6 g, of which saturates: 19.4 g, CARBOHYDRATE: 45.3 g, of which sugars: 40.3 g, PROTEIN: 8.1 g, SALT: 0.21 g