Selection of 6 mixed whole hazelnut bars 600 g
Pack containing 6 assorted Chocolate and Hazelnut bars. Offering sumptuous flavours and crunchy contrasts, this selection features Piedmont Hazelnuts throughout. An explosion of sweetness and crunch presented in a fun pack!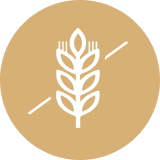 Gluten Free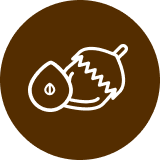 Only with "Piedmont Hazelnut"
£41.50
The undisputed star of this selection of bars is the Piedmont Hazelnut, which features in all three recipes. Two bars for each recipe: Vegan-friendly Dark Chocolate and Hazelnut Bar; Milk Chocolate and Hazelnut Bar; Salted White Bar with white chocolate, Sicilian almonds, pistachios and Piedmont Hazelnuts. The perfect opportunity to savour lots of delightful aromas with your eyes closed.

FREE SHIPPING
for orders above 69£

FAST AND SAFE SHIPPING
dispatched in 2-5 working days

THE BOX CONTAINS N° 2 BAR MILK CHOCOLATE (COCOA SOLIDS: 31.8% MIN., MILK SOLIDS: 23.5% MIN.) WITH WHOLE HAZELNUTS (30%). GLUTEN FREE INGREDIENTS: Piedmont HAZELNUT 30.0%, Sugar, Whole MILK powder, Cocoa butter, Cocoa mass, Anhydrous MILK fat, Emulsifier: SOY lecithin, Natural vanilla flavor. MAY CONTAIN TRACES OF OTHER NUTS. NUTRITIONAL VALUES PER 100 g - ENERGY: 2523 kJ/607 kcal, FAT: 44.9 g, of which saturates: 17.1 g, CARBOHYDRATE: 39.0 g, of which sugars: 37.4 g, PROTEIN: 9.9 g, SALT: 0.22 g N° 2 BAR WHITE CHOCOLATE WITH SALTED ALMONDS -10%, SALTED HAZELNUTS -10% AND SALTED PISTACHIOS -5%. GLUTEN FREE INGREDIENTS: Sugar, Cocoa butter, Whole MILK powder, Salted ALMONDS (ALMONDS - 98.5%, salt) 10.0%, Salted Piedmont HAZELNUT (Piedmont HAZELNUT - 98.7%, salt) 10.0%, Salted PISTACHIOS (PISTACHIOS - 98.7%, salt) 5.0%, WHEY powder (from MILK), Emulsifier: SOY lecithin, Natural vanilla flavor. MAY CONTAIN TRACES OF OTHER NUTS. NUTRITIONAL VALUES PER 100 g - ENERGY: 2475 kJ/595 kcal, FAT: 40.7 g, of which saturates: 17.2 g, CARBOHYDRATE: 47.3 g, of which sugars: 45.0 g, PROTEIN: 8.5 g, SALT: 0.51 g N° 2 EXTRA DARK CHOCOLATE (COCOA SOLIDS: 60% MIN.) WITH WHOLE HAZELNUTS (30%). GLUTEN FREE INGREDIENTS: Cocoa mass, Piedmont HAZELNUT 30.0%, Sugar, Cocoa butter, Emulsifier: SOY lecithin. MAY CONTAIN TRACES OF OTHER NUTS AND MILK. NUTRITIONAL VALUES PER 100 g - ENERGY: 2499 kJ/603 kcal, FAT: 46.2 g, of which saturates: 17.8 g, CARBOHYDRATE: 32.2 g, of which sugars: 26.9 g, PROTEIN: 10.1 g, SALT: 0.11 g