Selection of 6 mixed whole hazelnut bars 600 g
Pack containing 6 assorted hazelnut bars.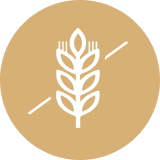 Gluten Free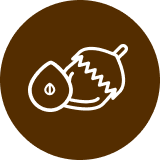 Only with "Piedmont Hazelnut"
£37.80
-5%
£35.91
An outstanding combination of flavours and crunchy taste contrasts that share one common protagonist: whole Piedmont Hazelnuts, the undisputed stars of this bar selection. Inside, two bars for each flavour: vegan friendly Dark Chocolate Hazelnut Bar; Milk Chocolate Hazelnut Bar; White Chocolate Bar With Salted Nuts, with whole crunchy Piedmont Hazelnuts, whole pistachios and sicilian almonds, lightly salted.

FREE SHIPPING
for orders above 59£

FAST AND SAFE SHIPPING
dispatched in 2-5 working days

THE BOX CONTAINS N° 2 BAR MILK CHOCOLATE (COCOA SOLIDS: 31.8% MIN., MILK SOLIDS: 23.5% MIN.) WITH WHOLE HAZELNUTS (30%). GLUTEN FREE INGREDIENTS: Piedmont HAZELNUT 30.0%, Sugar, Whole MILK powder, Cocoa butter, Cocoa mass, Anhydrous MILK fat, Emulsifier: SOY lecithin, Natural vanilla flavor. MAY CONTAIN TRACES OF OTHER NUTS. NUTRITIONAL VALUES PER 100 g - ENERGY: 2523 kJ/607 kcal, FAT: 44.9 g, of which saturates: 17.1 g, CARBOHYDRATE: 39.0 g, of which sugars: 37.4 g, PROTEIN: 9.9 g, SALT: 0.22 g N° 2 BAR WHITE CHOCOLATE (COCOA SOLIDS: 31.3% MIN.) WITH SALTED ALMONDS -10%, SALTED HAZELNUTS -10% AND SALTED PISTACHIOS -5%. GLUTEN FREE INGREDIENTS: Sugar, Cocoa butter, Whole MILK powder, Salted ALMONDS (ALMONDS - 98.5%, salt) 10.0%, Salted Piedmont HAZELNUT (Piedmont HAZELNUT - 98.7%, salt) 10.0%, Salted PISTACHIOS (PISTACHIOS - 98.7%, salt) 5.0%, WHEY powder (from MILK), Emulsifier: SOY lecithin, Natural vanilla flavor. MAY CONTAIN TRACES OF OTHER NUTS. NUTRITIONAL VALUES PER 100 g - ENERGY: 2475 kJ/595 kcal, FAT: 40.7 g, of which saturates: 17.2 g, CARBOHYDRATE: 47.3 g, of which sugars: 45.0 g, PROTEIN: 8.5 g, SALT: 0.51 g N° 2 EXTRA DARK CHOCOLATE (COCOA SOLIDS: 60% MIN.) WITH WHOLE HAZELNUTS (30%). GLUTEN FREE INGREDIENTS: Cocoa mass, Piedmont HAZELNUT 30.0%, Sugar, Cocoa butter, Emulsifier: SOY lecithin. MAY CONTAIN TRACES OF OTHER NUTS AND MILK. NUTRITIONAL VALUES PER 100 g - ENERGY: 2499 kJ/603 kcal, FAT: 46.2 g, of which saturates: 17.8 g, CARBOHYDRATE: 32.2 g, of which sugars: 26.9 g, PROTEIN: 10.1 g, SALT: 0.11 g